Why choose Langoik ?
There are various reasons to join Langoik. They are as follows :
Provides world wide acceptable certificates: We prepare our students for Goethe Exams, after clearing of which one gets a certificate, which is world wide acceptable.
Only Institute for B2 & C1 in Jaipur: There are many German language institute in Jaipur, but Langoik is the only one, which provides not only classes but also result for all levels i.e from A1-C1 Level.
Experienced Teachers: As mentioned above at Langoik we not only provide classes from A1-C1 but also result, which is not possible without experienced teachers. Check our reviews to believe it.
Online Classes: We don't believe in sticking to old traditional methods, therefore we go beyond classes conducted in four walls and make a virtual room having no walls and boundaries. Best part about taking online class with us is that you will understand the concepts thoroughly and will find have hardly an urge to visit to any other institute.
Best in Result and Placement: With experienced teachers we can assure you good results, but the hard work involved in it is paid off only with good placement opportunity. Hence, we place our students in known companies.
Speaking Sessions: A language can't be acquired until it's spoken. Therefore, we conduct special speaking sessions and invite Native Speakers to encourage your moral.
Courses according to your requirements: We value our student's requirements and design our courses accordingly.
Examination Preparation: In order to give our students in depth knowledge about the Goethe Exams, we conduct exam preparation classes, in which all the possible questions are covered.
I want to pursue my career in Germany. Will you help me in it ?
Ofcourse ! We have all the information about German universities; when to apply, where to apply, how to apply. Moreover we have the database of the funding programmes, such that funds should not turn out to be a hurdle for you. We would be more than happy to see our students making their career in Germany.
What is the procedure of taking admission ?
You just have to submit the registration form and submit it in our office and then you can start with your classes. Fill up the enquiry form for more details.
Do you give trial/demo class ?
Yes we do. Call us on 9958405787 to know more about it.
Are there any charges for trial/demo class ?
No, there are no charges for trial/demo class.
I have done certificate course from an university, is it equal to A1? If Yes, then can I join A2 batch instead of doing A1 ?
Firstly, certificate course is not equal to A1 level. These two courses have different orientation and hence have different learning outcomes. Certificate course emphasis more on literature, whereas A1 level aims on communication, listening, speaking and writing skills.
Secondly, if you claim to have knowledge of any level and want to pursue the next level instead of repeating the same level. Then one can pursue the next level without paying the fees of the previous level.
My English is not good, can I still manage to learn German ?
Undoubtedly yes, because at Langoik we not only explain the concepts in English, but also in Hindi.
Are classes taken in German ?
Yes, initially we explain the concepts in English or in Hindi. After having basic understanding of German language, we take the classes in German, such that we have better learning outcomes.
Why learn German ?
Knowing a foreign language is always considered as an add-on to the list of one's qualities. Associating oneself with more than one language heightens employment opportunities in various career options such as business, government, law, health care and medicine, technology, teaching, the military, social service, communications, and marketing, and Langoik is the best solution for it.
Here are few reasons listed to learn German :
(1) Money Making Opportunity : 
As per the calculations of MIT Economist, Albert Saiz German learns may have an accumulated bonus earning of 128,000 USD.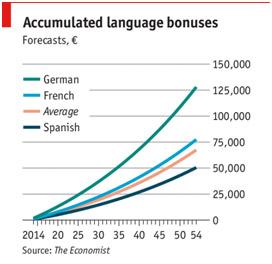 (2) Career Development :
In the emerging markets of Eastern Europe, Germany's is the third-largest economy in the world and is the highest exporter relative to its population. The productivity of German workers is the highest of any European country. So in such a scenario, knowing German can be of an added advantage to explore the business sector as a career opportunity. It is easier for highly skilled people to immigrate to Germany, if they are well versed with the German language.
(3) Better Placement :
The first ideology behind choosing the right university is that they facilitate higher chances of placement. Some renowned German Universities have been ranked in the top 100 list of universities that boost Global Employability. The list is compiled by Trendence, a German polling and research institute along with a French human resources consulting group of Emerging Associates.
In Germany, some universities are ranked among the top most universities and hence give strong opportunities for employment are
Technische Universität München
Universität Heidelberg
Ludwig-Maximilians-Universität München
Frankfurt School of Finance and Management
Johann Wolfgang Goethe-Universität Frankfurt am Main
(4) Scholarships and fellowships : 
Every year more than 20000+ scholarships are introduced for the researchers and students, who are seeking their career in Germany. So if you aiming to study in German university then you can apply for a scholarship.
(5) Tuition Fees is minimal in Germany :
Getting higher education in Germany is not that expensive. On comparing the tuition fee of German universities with the universities of neighboring countries, we realize that education is much affordable in Germany.  Most of the German universities have very low tuition fee for each semester. In addition to it, there are few universities that hardly ask for tuition fee, that is, there is no tuition fee in many universities of Germany.
This is really something really remarkable about education system of Germany. It is very helpful for students who cannot afford studying in expensive institutes. These universities provide education of international standards and that too within affordable fees.
(6) Lots of available options regarding courses and institutes :
There are many good and renowned universities and Germany. And, each university has several different institutes under it that offer wide range of courses. There are more than 400 courses and institutes too choose from.
Students get the chance to build career in so many different domains and disciplines.
(7) Dual programme :
Dual studies, is a concept where students also get the chance to work, while they are studying. This is helpful for students mainly in two ways
(a) They get the chance to apply their knowledge in real time environment
(b) It helps them in earning some money.
My question is not mentioned here ?
If there is anything which hasn't been answered here, then please feel free to call at 9958405787 or fill the enquiry form we will get back to you.